This is the last of the artist's museums we visited in our four days in Paris.  Michael, an artist friend, told  us  we should go to this" small"  museum and enjoy the  excellent  collection. When we approached this not so small building  we sighed with the anticipation of  tired feet and legs !
Picasso like Dali was born in Spain but immigrated to Paris where so many artists of this period lived and worked. He was one of the greatest, influential and prolific artists of the 20 century. The talent of both men were quite evident when they were very young. Their styles  are quite different.  Dali was a surrealist and Picasso was a co-inventor with Georges Braque of cubism.
"If you become a soldier, you'll be a general.  If you become a monk, you'll  end up as the pope."  a quote from Picasso's mother  to her son.
Picasso later responded to his mother's words.
"Instead, I became an painter and wound up as Picasso!"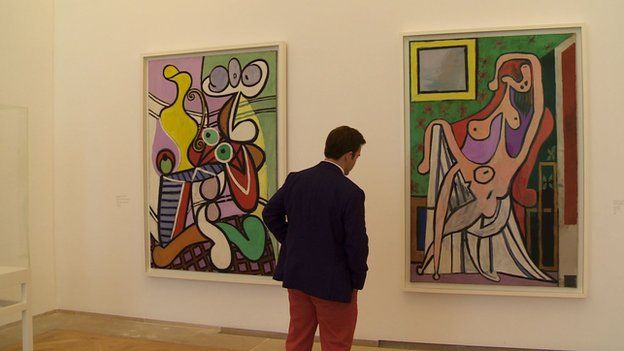 My favorite work by Picasso is not in Paris but in a prominent location in the Museum of Madrid.  The title is Guerica.  It has been given the distinction of being called Modern Art's  most powerful anit-war statement.
In-fact I used this in a post from  India.
At the end of our Picasso Museum visit, we did walk away with tired aching feet and legs but feeling quite proud that we made it through this "small" museum.  David's comment was pinpointed and humorous as usual. . . .
"I think Picasso had some weird hangups about the human body!"
Oh I forgot to include this story of the artist.  Once he took a bill from his wallet and signed his name across it.  As he handed it to his friend he said, "Now you own a priceless Picasso! "
https://talesalongtheway.com/2014/03/21/in-a-garden-originally-posted-on-july-7-2013/