Dev Patel, as the  man Saroo Brterley searching for his family.
This is Saroo as a child played by Sunny Pawar who almost stole the film from Dev and most assuredly stole the audiences' hearts!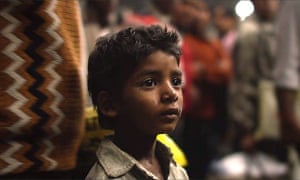 Eight-year-old Sunny Pawar and his father were denied a visa to enter the US for the premier in New York and Los Angeles.   Shame on the US State Department.
Lion is the true story of an Indian man who got lost as a child.  It is a simple but incredibly complex story of a little boy who through no fault of his own ends up alone and on the dark streets of Kolkata, unable to speak the language of this state far away from his own. He is forced to steal, sleep on the street with other homeless Indian street children just to survive.   He barely misses being taken as a sex slave.  But all through his journey Saroo Brierley, whose story is told, never stopped dreaming about his family who had been left behind.
Lion is up for the Academy Award for best picture.  Garth Davies is an Australian director who worked until this film directing television. Dev Patel is the Indian actor so prevalent in films popular in the west. He was first seen in Slumdog  Millionaire, which did win the best picture.  He was also in The Most Exotic Marigold Hotel and The Life of Pi. Interesting aside is that Dev was born and lives in London.  This film may have attracted him as a journey film of his own life. He was willing to work hard on an Australian accent and gain weight and work out to be a believable athlete.  In Indian films and in real life, the women in India have the most amazing thick long hair, but Dev has the spectacular thick long curls in Lion.
Google Earth plays a prominent part of the plot and is how Saroo was able to unlock the mystery of finding his village in rural India, based on his memories of his fateful train trip.
Faith is evidenced through in the background.  There was a call to prayer, a brief stop at a Hindu god and characters speaking of being blessed.  I have mentioned before that in India, 98% of the population claim a faith system and it is a very important part of  the culture.
Lion is a wonderful example of the films that Indians do best,  films filled with inspiration. It is a strongly moral, pro-family movie with emphasis on the mother-child relationship both as the birth mother and adoptive mother. Just as India is very transparent to visitors both positive and negative aspects of their culture such as poverty, orphans, street people, internal strife of right and wrong, family, love, adoption and the meaning of love.  Actually, like many Indian films . . . . this film is about life and that is what the Indians get. . . and live. . . . And inspire the rest of the world with their insight.