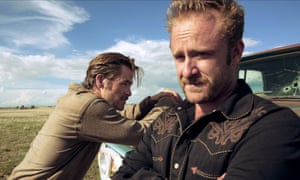 The title is an idiom for  total determination.  These two Texas brothers have a plan and are determined to fulfill it, Yes, they are robbing banks and in a  rather  a cumbersome  way.  This is a crime drama similar to" No Country for Old Men", "Fargo", and" Bonnie and Clyde"  but in its own flavor.
The screenwriter is Taylor Sheridan who is known for his work on "Sons of Anarchy", and "Sacario."  This film maybe his big break as  the story and especially the dialogue is superb.  Mostly it is guy talk, rapid, teasing, insulting and authentic.  Fortunately Sheridan had strong actors who can deliver his words with such strength.  There is humor throughout and I mean' laugh out loud"  humor in spite of the subject matter.  There is already talk of awards for this screenplay.
Chris Pine. who is mostly known until now for his role of Captain Kirk in  Star Trek 2009, will probably make a break out, too,  for  this film into a full blown star. He is handsome , ans has great timing and sincerity in his acting.
Themes are male bonding, friendship, poverty, family, greed, and the hated banks!   Same old same old, right?   Well, in spite of the violence, shoot outs, and strong language, this is a thoughtful and enjoyable film.
If you  haven't seen "Sacario" I highly recommend that, too !
***** stars for "Hell and High Water".   A very enjoyable film weekend!